Get Your Roof Ready for Winter: Maintenance & Repairs in WI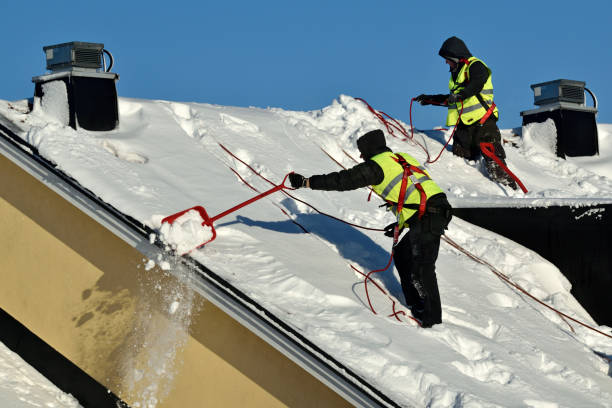 Don't let Wisconsin's harsh winter weather ruin your home or business. In fact, many people don't realize winter is actually a great time for roof repair and replacement. Trust the Milwaukee and southeastern Wisconsin experts at Alois Roofing for fast, reliable work – even during the coldest months of the year. Call now for a free estimate!
Replace Your Roof in Winter
Replacing or repairing a roof during winter in Wisconsin actually comes with a number of benefits.
Faster installation: Many of our customers in Milwaukee, Waukesha and across southeastern Wisconsin prefer replacing/repairing their roofs during warmer months. As a result, we are able to pay more attention to individual projects during the slower winter season.
Energy savings: A new roof installed during winter improves your home or business's energy efficiency, preventing heat from escaping out through your old, leaky roof and saving you money.
Winter Roofing Materials
Some roofing materials are built to better withstand the rigors of Wisconsin's winter weather. From Milwaukee to Kenosha, we carry the best materials so your home or business remains protected against the snow and cold.
Roofing Material
Key Characteristics
Asphalt Shingles
Popular, withstands cold temps and heavy snow
Metal Roofing
Durable, sheds snow and ice easily
Slate Roofing
High-end, durable, resists water and extreme temps
Winter Roof Maintenance
Winter weather is harsh on your roof – damage is easily caused and reduces the roof's lifespan. It's essential to maintain your roof during the winter season, and we're here to do it for you. Our southeastern Wisconsin team of professionals inspects roofs for signs of damage and to identify potential issues during the winter season. Our maintenance services include:
Clearing roof debris
Checking for leaks and cracks
Ensuring proper insulation
Ice and snow removal
Ice Dam Prevention and Removal
Ice dams form on Wisconsin roofs when snow melts and refreezes. The resulting dam prevents water from dropping off the roof, forcing the trapped water beneath the shingles. Your roof can suffer significant harm from ice dams, resulting in leaks and water damage. Seek help from the professionals at Alois Roofing, southeast Wisconsin's trusted ice dam prevention providers.
Emergency Winter Roof Repair
Winter weather wreaks havoc on your roof – heavy snow, ice dams and freezing temperatures cause serious damage across the Milwaukee area and Wisconsin. If you experience roof damage during the winter months, don't hesitate to call on Alois Roofing for emergency repair services. There are a number of issues to contend with during winter:
Leaks: Snowmelt enters your home and causes damage to walls, ceilings and floors and may lead to mold growth.
Ice Dams: Ice dams prevent melting snow from draining off the roof. Instead, the water is forced under the shingles.
Structural damage: If minor damage isn't repaired, the weight of snow and ice can exacerbate the problem and further damage the roof.
Energy Loss: Damaged roofs allow warm air from inside to escape through gaps or holes. The energy loss causes heating bills to rise.
How to Maximize Winter Roof Repair
To ensure your roofing project is carried out to satisfaction, it's important to clearly communicate your needs. Provide a detailed description of your expectations and budget considerations.
It's important to verify a roofing company is licensed, insured and has a reputable track record. You can request references and evaluate each one.
Choose a roofing company with experience in winter projects – those companies will have the necessary skills and knowledge to take on the specific challenges of working in cold Wisconsin weather.
5 Winter Roofing FAQs
Frequently Asked Questions