Roof Column Installations, Repairs and More
The best Roof Column Contractors in Milwaukee, Wisconsin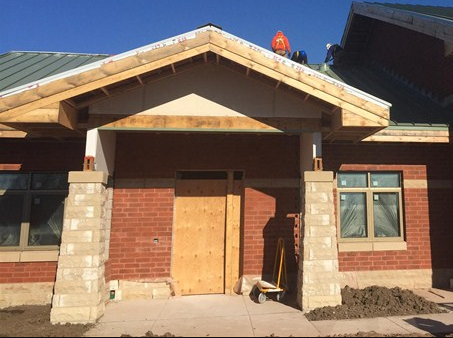 Sheet metal roof columns are one of the best ways to provide roofs with extra support and an aesthetic look. If you are adding an overhang to your building or want to replace old columns Alois' sheet metal columns are known for their durability, support and aesthetic appeal. With every service from sheet metal roof column installations, maintenance and repairs, Alois has a service for every type of column or company.
Benefits of Alois Roofing's Sheet Metal Roof Columns
As Wisconsin's leading roofing company, our goal is to protect your homes and the environment with harmless products. That's why every Alois sheet metal roof column is made from 100% recycled materials. Our eco-friendly columns are good for the environment and are easily recyclable when being discarded.
Some other benefits of Alois Roofing sheet metal roof columns include:
Extra support for larger commercial buildings
Durable materials that will last
Easy installations
Added durability to roofs with overhangs
Resistance to penetration from bugs and pests
Providing texture and aesthetic appeal to plain exteriors
We strive to provide customers with the best roofing services in Wisconsin. With the largest selection of sheet metal products in Wisconsin, there is a design, type and color that will look good for every building. Our team of expert designers will also walk customers through the entire selection process and create an installation plan to ensure 100% customer satisfaction on every installed roof column.
Take a look through our project portfolio to see some sheet metal projects we have worked on in the past and what an Alois Roofing sheet metal installation can do for your business.
Premium Architectural Sheet Metal Services In Milwaukee
Wisconsin trusts Alois when it comes to architectural sheet metal services. When it comes to fixing your home or business you wouldn't trust a plumber to do an electrician's job. That's why Alois Roofing has specialized teams for every one of our services whether it comes to sheet metal or shingles. With our team of experienced sheet metal experts, Alois Roofing has been providing Wisconsin with superior sheet metal roof columns that customers can trust to stand the test of time.
Alois Roofing doesn't only install, repair and replace sheet metal roof columns. Some other areas of your business we can provide sheet metal services for include:
Contact Alois Roofing for a free quote or to learn more about sheet metal roof columns.