Eco-Friendly Green Roofing Solutions
The best vegetative roofing repair and installation in southeast Wisconsin
Green roofing is a 21st-century take on the sod-covered roofs used in Scandinavian home construction in the 1700s. Today, green roofing encompasses everything from rooftop container gardens to an entire roof surface covered in vegetation. Green roofs can also be roofs with energy-saving technologies like solar panels and reflective materials.
Green roofing benefits
A true "green roof" is a living, growing carpet of vegetation. These roofs are built with a layer of dirt over a waterproof membrane. The vegetation is usually drought-resistant grass, wildflowers, or landscaping plants. Irrigation systems are often incorporated into the installation. Besides adding visual appeal, a green roof can significantly decrease energy costs and reduce stormwater runoff.
Subsidies for green roofing systems in WI
In addition to earning LEED credits for Storm Water Design and Heat Island Effect, there are also financial incentives for green roofing. In Milwaukee, for instance, the Milwaukee Metropolitan Sewerage District (MMSD) offers a $5 per square foot subsidy for green roofing. Reflective heat-reducing roofs using Energy Star approved materials (not vegetation) are also eligible for a tax credit of up to $1,500 (on the cost of materials).
Green roofing types
There are three main types of green roofing to choose from: extensive, semi-intensive, and intensive. Each type has its strengths and weaknesses, and not all types of green roofing can be installed on any roof. Green roofing has exploded in popularity over the last decade or so. Green Roofs for Healthy Cities (a Toronto-based organization) estimates a 15% increase in green roofs in North America since 2013, and that number is only likely to grow. Alois Roofing is proud to help commercial businesses and residences throughout southeast Wisconsin join the green roofing revolution.
Extensive Green Roofing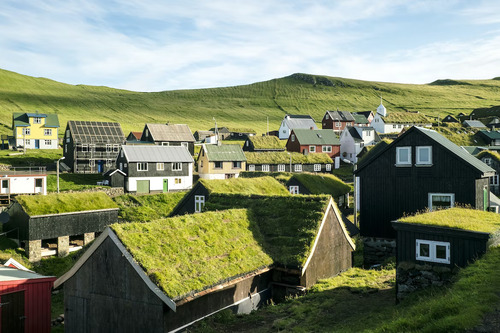 • Underlying Load-Bearing Materials: Concrete or Wood
• Plant Options: Mosses, perennials & sedums
• Plant Growth Depth: 1.5 to 6 inches
• Weight: 15 - 37 lb/sq.ft.
Semi-Intensive Green Roofing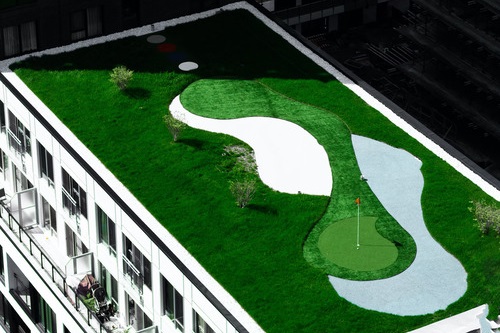 • Underlying Load-Bearing Materials: Concrete Only
• Plant Options: Grasses, perennials & small shrubs
• Plant Growth Depth: 4.75 to 12 inches
• Weight: 40 to 102 lb/sq.ft.
Intensive Green Roofing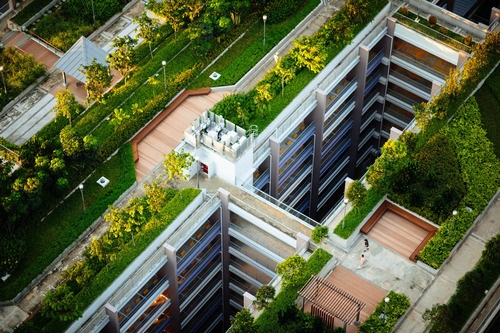 • Underlying Load-Bearing Materials: Concrete Only
• Plant Options: Grasses, trees & small shrubs
• Plant Growth Depth: 12 or more inches
• Weight: 100 to 410 lb/sq.ft.
• Maximum pitch of 5%
Frequently Asked Questions
How long does a green roof last?
Depending on the level of maintenance needed and the attention given to this maintenance, a green roof can easily last 30 to 50 years or more. There are sod roof buildings in Europe that have endured for centuries.
Characteristics of green roof systems
Lower heating and cooling costs
Helps control stormwater runoff
Vegetation protects roofing material underneath
Can be used for recreational space or gardening
Reduces carbon dioxide in urban environments
Higher installation cost
Requires regular maintenance, including replanting
Requires adequate structural support
Alois Roofing is WI's preferred green roofing installer
At Alois Roofing, we believe in providing top-notch roofing services that not only protect your home or business but also contribute to a healthier environment. As southeast Wisconsin's leading green roofing specialist, we offer the best in green roofing installations, utilizing the latest in eco-friendly materials and techniques. Our certified and experienced technicians are passionate about delivering results that meet your needs and exceed your expectations, ensuring that your green roof lasts for many years to come. Whether you're looking to reduce your carbon footprint, increase energy efficiency, or simply enhance the aesthetic appeal of your property, Alois Roofing is your best choice for quality, durability, and affordability. So why wait? Get in touch with us today and discover the many benefits of a green roof!